Hawaiki Keyer






Hawaiki Keyer 3.0 is a complete keying system for green screens and blue screens, featuring an innovative keying algorithm, a unique diagnostic toolset and unrivalled compositing options, all designed to help you get the perfect key with the minimum of guesswork.



Version 3.0 OUT NOW. Click to see the huge list of incredible new features.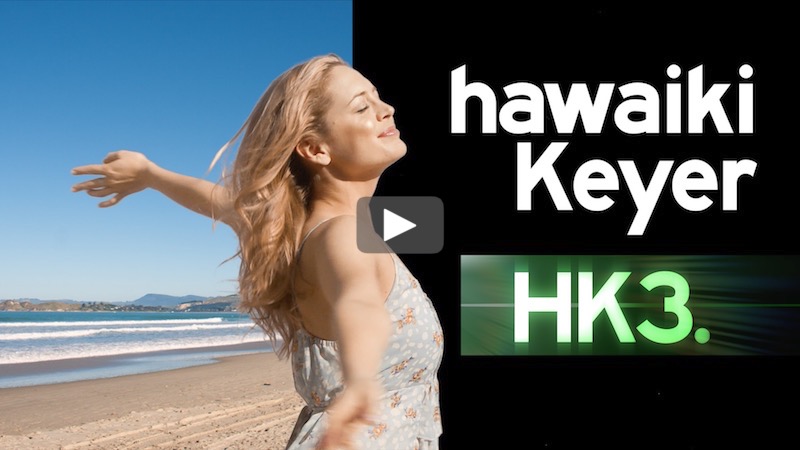 Hawaiki Keyer is the most powerful and best value keying solution for Apple's Final Cut Pro X and Motion 5, and its unique feature set will also appeal to users of Premiere Pro and After Effects (Mac only).



Create great-looking mattes and make easy work of fine, wispy hair detail and tricky motion blur. Hawaiki Keyer offers a powerful set of matte extraction tools to overcome even the toughest keying obstacles.



Experience exceptional control over spill suppression to tame even the toughest contamination.



The Edge refinement options in Hawaiki Keyer offer unique, powerful and versatile tools for truly exceptional results.



A unique set of diagnostic views help you get the best out of your keys and spill suppression by eliminating the guesswork and allowing you to work quickly and precisely.



Use the extensive built-in color correction to fine tune your composite, and add Light Wrap and Edge Blend for great-looking final results.



Blisteringly fast rendering and playback performance, plus a host of other professional features combine to make Hawaiki Keyer one of the the best keying solutions you can buy, and at just $99 it is also by far the best value.



And add to the finishing touch to a really great composite with Hawaiki AutoMatch, the best colour matching plug-in you can buy.
How does it work?



Check out the Manual for more details.


Upgrading to Hawaiki Keyer 3.0
If you purchased Hawaiki Keyer 1.x or 2.x we're offering $50 off the price of Hawaiki Keyer 3, a saving of over 50%. FxFactory will email you a coupon code which is valid until the end of October 2016. If you're yet to receive it, contact FxFactory at sales@fxfactory.com

Hawaiki Keyer 3.0 supports El Capitan and above. If you like the look of Hawaiki Keyer 3.0 but haven't yet moved to El Capitan (or are using earlier versions of the host apps), you can purchase Hawaiki Keyer 3.0 and request a Hawaiki Keyer 2.1 licence from FxFactory - email: sales@fxfactory.com
System Requirements
OS X El Capitan 10.11.1 + , macOS Sierra 10.12 +
FxFactory 5.1 +
Final Cut Pro X 10.2.3 + , Motion 5.2.3 + , After Effects and Premiere Pro CC (2014) +
Installation
Developed by Tokyo Productions and Lawn Road, Hawaiki Keyer is available exclusively through FxFactory.




Download and Install FxFactory before installing Hawaiki Keyer.









Hawaiki 3.0 Update - Overview
Objectives - For Hawaiki Keyer 3.0 (HK3), we went back and had a close look at our previous versions and realised that even though the core tech worked really well and produced great results, there was still more guesswork involved than we'd have liked - a problem common to many keyers and which can often be frustrating for users. So while we've refined the core algorithms and added some exciting new features, including the unique and extremely powerful Pre-Qualify option, the focus of this release has been about giving you the tools to reduce the guesswork so you can not only pull a better key but finish the job much faster. We've aimed to achieve this in a few different ways - by removing, reordering and renaming existing parameters, by providing more refined control of existing processes and by adding new and unique views that show both what you need to do and what you've done.




Improved matte extraction - Hawaiki Keyer has always been outstanding for the quality of its matte extraction, but with HK3 we've gone even further. Not only have we tweaked the keying algorithm for improved performance, we've also added a whole new set of options for "pre-qualifying" the image prior to the matte extraction process. This means that it's even easier than ever to compensate for unevenly-lit green screens and restore foreground detail that is heavily contaminated with the background colour. With Pre-Qualify, we think you're going to be getting keying results as good as the very best keyers can offer - or perhaps even better.


Improved diagnostic tools - Hawaiki Keyer has led the way in tools that help you analyse your image to get the best possible key and spill suppression, but with HK3 we've sought to expand on that very considerably. The new and unique Pre-Qualify, RGB Max and Luma Map views help take the guesswork out of pulling a really great key. The new Spill Map and Spill Map Overlay views give you much improved analysis of the spill suppression process. Our aim has been to reduce the guesswork and make it much easier for you to get exceptional results, exceptionally quickly and easily, and you won't find these tools in any other keyer on the market.


White Balance - We've also introduced a new white balance feature that uses Hawaiki's state-of-the-art AutoGrade technology for really outstanding results. If your green screen footage is heavily biased towards a particular colour, it can sometimes be difficult to pull a key. With the new white balance option, you can neutralise any colour bias in the backing colour and/or correct the foreground image for a much more pleasing result.


Other improvements - Among numerous improvements and enhancements, we've improved the density tools, the matte refine tools, the Despill operation, the Light Wrap process, the Edge process, the Edge Blend process, and the Denoise process, as well as adding two new Auto options to the matte auto process. In addition, we've sought to streamline the toolset and simplify the way that it is presented to make Hawaiki Keyer easier to use and more understandable than ever before.
Hawaiki 3.0 Update - Feature List
View Modes:

New Swap option (with additional dropdown menu) for quick comparison of any two views;
New views include RGB Max, Pre-Qualify, Luma Map, Edge Blend and Spill Map Overlay, as well as improved versions of Analysis and Spill Map.

Auto Target & Auto Edge:

New Auto Target control to adjust the target density of the Auto process; new Auto Edge option helps maintain lighter foreground detail.

Refined Screen Density Controls:

Knee controls for High & Low Density for greater accuracy and enhanced edge quality.

Pre-Qualify:

New Pre-Qualify section intelligently targets foreground and background RGB balance for very high levels of matte refinement.

Black and White Clip Knees:

New Black and White Clip knee controls allow for much more precise targeting of clip operations.

White Balance:

New White Balance section uses Hawaiki's state-of-the-art white balance technology (from AutoGrade) to allow you to white balance either the foreground image or the matte process or both, with the choice of balancing from a white (grey value) pick or a skin tone pick.

Edge:

Revamped Edge processing: Edge Transparency now uses the main edge matte, as does the new Edge Blur, so both can be qualified with a gradient. Edge Blend algorithm has been updated to produce a smoother blend.

Denoise:

Improved Denoise options with Low, Medium and High settings.

Despill:

New Auto Luminance and Auto Saturation options.


Light Wrap:

Enhanced Light Wrap module with a choice of blend modes.