Hawaiki Style
Hawaiki Style is the new graphic design plug-in for FCP X that allows you to instantly style text & logos for an incredible variety of impressive professional looks.
Hawaiki Style comes complete with 75 stunning presets that you can simply drag & drop for great first-time results, or you can customise any of the looks to create your own awesome style.
With 5 different style modes & 10 fill presets to choose from and an amazingly versatile set of tools for customising your look, Hawaiki Style brings you bevels & complex contours, outline & shrink, inner & outer strokes, inner & outer glow, drop shadow, texture overlays, erosion, auto-animated edge & face lighting and much more.
If you work with text in FCP X, this is one plug-in you can't afford to be without.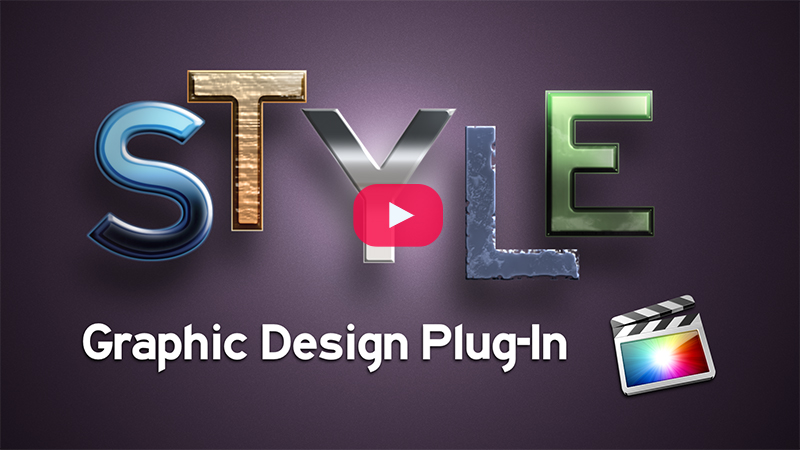 OPERATION OVERVIEW
You can find Hawaiki Style in your FCP X Effects Browser, with the 75 preset looks arranged by design category, including Chrome, Distressed, Metallic, Outline, Shiny, Stone, Stylised, Synthetic, and Ultra Bevel.
Simply drag any preset onto a title or logo in your timeline for an instant result, or hover over any style to see a realtime preview.
Use the deep and powerful controls in the Inspector to customise the look. Every preset is built on the same basic foundation, with the same controls, so you can use any preset as the starting point for your own unique design.
Check out the Manual for more details.
Installation
Developed by Tokyo Productions and Lawn Road, Hawaiki Style is available exclusively through FxFactory.

Download and Install FxFactory before installing Hawaiki Style.